---
James Wilson Crutcher 1842 - Aft. 1920
---
James Wilson Crutcher. Of Williams, was born in Montgomery County, Missouri, in 1842.

He was raised on a farm and received a good common-school education.

He came to California in 1863, crossing the plains with an ox-team, by way of Salt Lake. His first employment in the State was as superintendent of a toll-road in Placer County, for Major Jefferson Wilcoxson, where he resided several years. Desirous of fitting himself thoroughly for a business career, for which his subsequent success had proved him to be eminently adapted, he went to San Francisco and took a complete course in a business college.

In the session of the Legislature 1869-70 Mr. Crutcher was employed in the Engrossing Clerk's Department.

Major James Glenn next employed him, in 1870, to keep books for him in Oregon. He continued in this work for four years, when he came to Colusa County as book-keeper for Dr. Glenn. It was during his residence here at Jacinto that he married Miss Anna Houchins. Their family circle is graced with four boys and two girls. In 1876 he came to Williams and opened business for himself. Two years later, he associated A. B. Manor in the same business, moving into their own building, a handsome brick block, a cut of which is given elsewhere. Here he still remains, prospering and popular.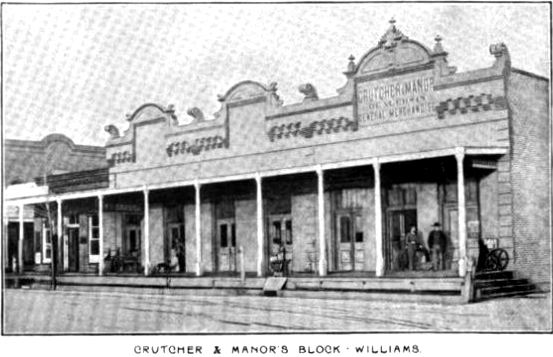 Mr. Crutcher was the first Justice of the Peace elected at Williams and has held a notarial commission since 1875. Mr. Crutcher's quiet, courteous demeanor, together with the confidence which his integrity and business talents inspire, have caused him to be respected and esteemed wherever he is known. He is one of the solid as well as one of the most useful citizens of Williams.
Colusa County: Its History Traced from a State of Nature Through the Early Period of Settlement and Development to the Present Day : with a Description of Its Resources, Statistical Tables, Etc.
Orland California 1891
Justus H Rogers
Biographical Sketches of Pioneers and Prominent Residents