Glen Earl Mershon
1876 - 1955
---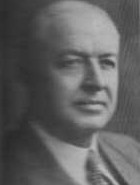 Glen Mershon was born at Mt. Morris, Ill., and came to Mt. Carroll with his parents when eleven years old. He obtained his preliminary education in the Mt. Carroll school and the Mt. Morris College. His medical education was obtained at the Barnes University of St. Louis, Mo., from which institution he took his M. D. degree in 1901. After practicing one year at Leaf River, Ill., he located in this city where he has remained ever since. He has taken Post Graduate courses at the Chicago Policlinic in 1907 and 1915 and at the Cook County Hospital in 1927.
He belongs to the American Medical Association, Illinois State Medical Society the Interstate Post Graduate Assembly, and the Carroll County Medical Society of which he is now President and has served twice in that capacity on two previous occasions.
He was married in 1900 to Miss Grace C. Dresbach, a native girl, and has four children: Dr. Donald Glen Mershon, who has obtained a medical degree from the University of Illinois, and is now practicing in Chicago as resident physician in one of the large hospitals of that city; Dorothy Mershon, who is a graduate of the Frances Shimer School and the University of Illinoss and is now teaching in the Township High School at Fairdale, Ill.; Mildred and Jeanette both in school.
He now has associated with him Dr. R. H. Petty, and they keep an office second to none in Northern Illinois, having modern, up-to-date equipment far beyond that usually found in a town of this size.
Carroll County Biography & Business - Souvenir Edition 1930
Vol. XI, Mt. Carroll, Illinois, July 10, 1930 - NO 185
Cal M. Feezer, Publisher
Biography & Business Index "M-R"