William Otterbine Dresbach 1842 - 1923
---
William Otterbine Dresbach was the fifth of seven children born to the Reverend Simon Dresbach and his wife Francis Bowman.

Simon Dresbach was closely affiliated with the United Brethren in Christ and young William may have been named for Phillip William Otterbein, the founder of the Church of the United Brethren in Christ a forerunner of today's United Methodist Church.

From Williamsís Civil War pension application, his family bible, and his father Simonís family bible, he was born July 24, 1842 in Mechanicsburg, Cumberland County, Pennsylvania.

The 1850 Census for Cumberland County, Pennsylvania has William living with his mother and father and all his brothers and sisters in East Pennsboro just across the Susquehanna River from Harrisburg which is in Dauphin County, Pennsylvania.

By 1860 Williamís parents had moved from East Pennsboro to New Kingstown, Cumberland County, Pennsylvania; however, William is living in the household of one of his older sisters, Mary Elizabeth Dresbach who was now married to John George Coleman. In 1860 the Coleman's were living in Lower Allen, Cumberland County, Pennsylvania in Shiremanstown which is about nine miles from New Kingstown. Perhaps William was living with the Coleman's as he may have been employed by his Brother in-law. According to John Coleman's biography he was "..engaged in merchandising on his own account, opening up on a small scale a country store, which he conducted successfully for five years.", this was from 1860 to 1865. On the 1860 Census Williamís occupation at the age of seventeen was listed as clerk, and a nine mile commute from New Kingstown in 1860 would have been an ordeal to say the least.

During the Civil War, about one month before his twenty first birthday, on June 27, 1863, William enlisted in Company B, Pennsylvania 47th Infantry Regiment as a Corporal at Harrisburg, Pennsylvania. He was honorably discharged after serving in this emergency militia until he was mustered out of the service on August 14, 1863 at Reading, Pennsylvania. The short duration of his active duty would later ensure that he was never to receive a pension for his service during the Civil War. However, later in life it appears he lived in the Oklahoma Union Soldiers Home in Oklahoma City.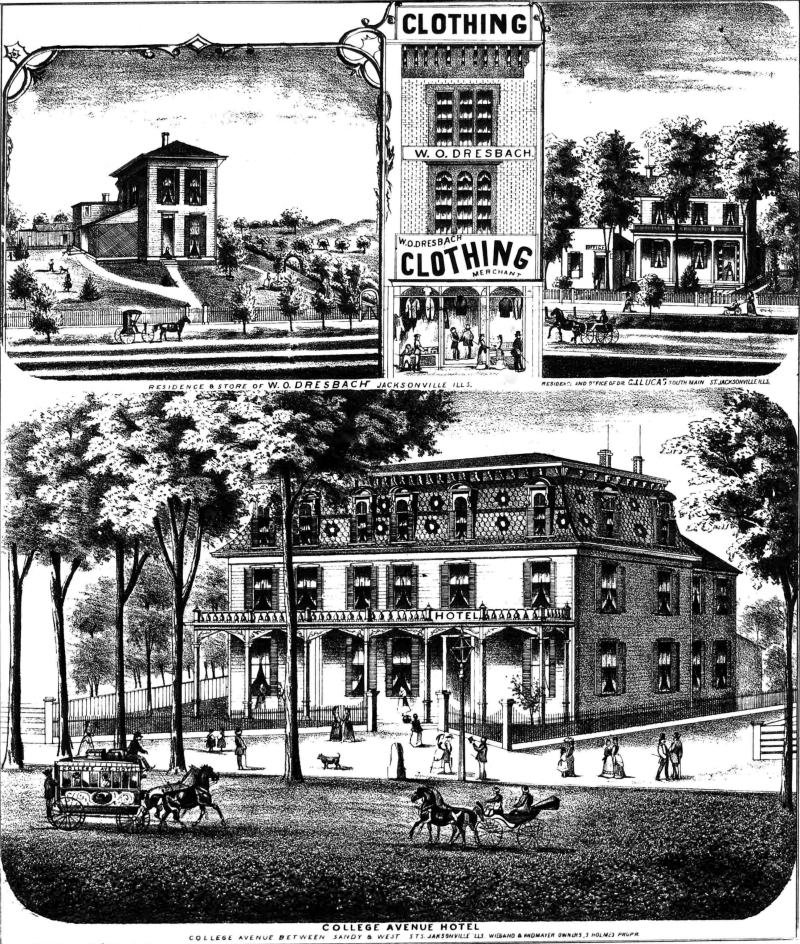 Following is a short biography that appeared in the History of Morgan County, Illinois: Its Past and Present Donnelley, Loyd & Co., Publishers, 1878.

DRESBACH, W. O. & CO. (W.O. Dresbach and W.H. Black) dealers in clothing, gents' furnishing goods, hats, caps, etc., north side Public Square. Mr. Dresbach, the head of this firm, is a son of the Rev. Simon Dresbach, of Mechanicsburg, Pennsylvania, where he was born, July 24, 1842. He came to Jacksonville in 1864, and engaged in the above named business in the same store they now occupy. He is a wide-awake business man, and to this fact we can attribute his success in the clothing business. Mr. Black, his partner, was born in Hopkinsville, Christian Co. Kentucky, April 6, 1833, and came to Morgan County two years later, and has until about a year ago, devoted his time to farming, when he connected himself with Mr. D. in the clothing line.

This picture was included in an Atlas Map of Morgan County, Illinois, Compiled Drawn and Published from Personal Examinations and Surveys. by Andreas, Lyter & Co. Davenport, Iowa. 1872

According to the above biography, sometime in 1864 William relocated from Pennsylvania to Jacksonville, Morgan County, Illinois. William may well have been the first of his father's family to move away from Cumberland County since he alone moved to Jacksonville. All references that I have seen (including this Biography) have Williamís father Simon Dresbach and his whole family (including all his married sons and his married daughters and their husbands and families) relocating to Carroll County, Illinois in 1865. Why William went to Morgan County instead of to Carroll County is a mystery.

Thomas Ephraim Dresbach, William's younger brother also moved to Jacksonville at a later date and lived there for eleven years, marrying a local girl,

Susie F. Sutton before eventually re-locating back to Mount Carroll, IL.

William married Annie E Tunnell, a resident of Morgan county, on November 1, 1866 in Morgan County, Illinois. Anna E Tunnell was the daughter of Stephen S Tunnell and Emeline Ferguson and was born May 14, 1849 in Morgan County, Illinois. Between August of 1867 and December of 1880, William and Annie had seven children all born in Illinois; Harry Vincent, Alice Mae, Florence, John, Marie Pearl, Thomas E and Clyde W.

In the June 1880 Census for Jacksonville, Morgan County, Illinois, William is listed with his whole family except for Clyde who wasnít born until December of 1880.

Sometime before 1885 William moved his entire family to Canton, Lincoln County, South Dakota, as William and his entire family appear in the 1885 South Dakota Territorial Census where he is listed as a farmer. Why he moved over 500 miles away to farm when he apparently had been in the retail merchant business all his life, like his move to Morgan County, IL is a mystery. It appears that he was also one of, if not the first Dresbach to move to South Dakota. Henry L Soule, the husband of Williamís older sister Regina, was a minister and had been to South Dakota preaching and eventually moved to Canton. One of Williamís nieces, Lucy Dresbach (Cotton) and one of his nephews Frank W Dresbach also moved to South Dakota, but at later dates.

In 1888 Annie, Alice, Florence, John and Pearl appear as members in the Canton, Lincoln Co., SD - 1888 Methodist Church Records. Thomas and Clyde may have been too young to be listed as members, Harry Vincent his oldest son, who graduated from Georgetown University in 1894, was probably already away at school in 1888. William is not listed. In 1891, the Daily Mitchell Republican (Mitchell, South Dakota) printed on December 6, has W. O. Dresbach as a "hotel arrival". Mitchell is about one hundred miles west of Canton, SD, Iím not sure if he was visiting from Canton or from Kansas City, Missouri as in early 1892, William first filed for his Civil War Pension listing his place of residence as Kansas City.

Between January of 1895 and February of 1907, William lost his wife and five of his children. On January 29, 1895 Williamís wife Annie died from Tuberculosis as did Florence in 1898 and Alice Mae in 1899 in Arizona at or on her way to a sanitarium. John died in 1902. Clyde was killed when his horses kicked him while working as a Wells driver (Wells Fargo?) in Nevada in 1903. Finally Thomas E. died in 1907. All are laid to rest in the Diamond Grove Cemetery in Jacksonville, Morgan County, Illinois.

I have been unable to locate William in the 1900 Census, Clyde was living with Harry Vincent and his family in Moundsville, Missouri, John and Marie Pearl were living in Denver, Colorado and Thomas was living in Kansas City in a boarding house. In 1910 Dr. Harry V Dresbach was living in Iola Kansas and interestingly, William was living in Iola as well; however, not in Harryís household and in the Census he is actually listed as Harry Dresbach. In October of 1914 William and his son, Harry filed for and received a patent for an oil burner, the address on the patent was Joplin, MO.

In November of 1917 William again applied for a pension based on his service in the Union Army during the Civil War while living in Oklahoma City, and again was denied based on the length of time he served.

In 1920 Harry, his wife Minnie their daughter Helen and William are living in Oklahoma City, Oklahoma. William may have lived for a time in the Oklahoma Union Soldiers Home in Oklahoma City.

According to the family bible, William died May 10, 1923.

A search in Oklahoma for his death certificate has been unsuccessful so he may or may not have died in Oklahoma.

He is laid to rest in the Diamond Grove Cemetery in Jacksonville, Morgan County, Illinois with Annie and all of his children, except for Marie Pearl Dresbach (Amack).

Submitted by M. Lockett 12/15/2010