James William Huffman 1850 - 1936
---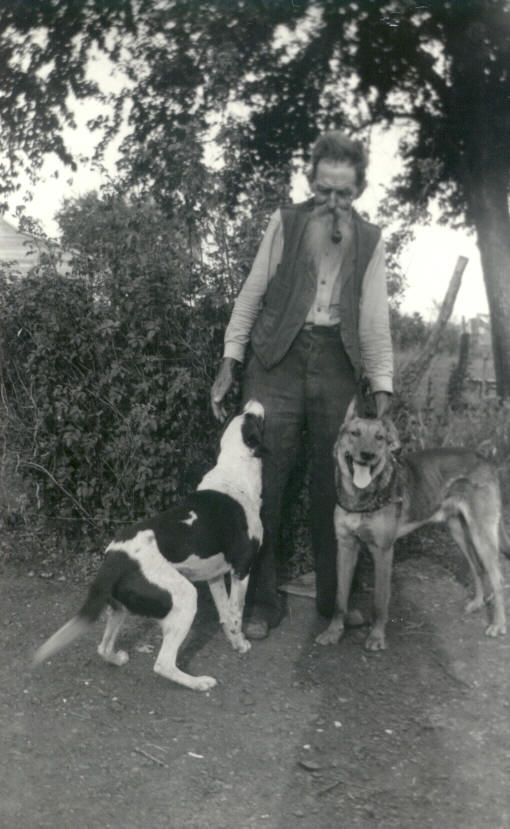 James William Huffman (April 11, 1850-Jul 3, 1936) married Kate Silvertooth (March, 29, 1854-1884). James was the second of ten children born to John Walker Huffman and his wife Jane Greene. The ten children are: Sarah A., James W., Harriet P., George M., Barbara J., John L., Arah M., Linzey C., Joseph D. and Thomas P. Huffman.
James William boarded a train in Estill Springs, Bedford County, Tennessee with four small children and headed for Euless, Texas to the home of his parents who lived near the railroad. Kate and an infant had died. The children who came to Texas with J. W. were Eulela Huffman (April 22, 1875-April 27, 1946), John Adison Huffman (March 24, 1878-October 1906), George Walter Huffman (September 14, 1879-January 5, 1967) and Joseph Johnson Huffman (April 29, 1881-February-17, 1973).
The oldest child, Eulela, married C. M. Rogers. He died in 1932. Their children:
Charles Priestly Rogers (March 25, 1901-1977), Edna (Rogers) Wilson (born April 25, 1904), Kate (Rogers) Folk (born September 18, 1906), J. Frank Rogers (May 28, 1911-February 2, 1975) and Mary Alice (Rogers) Barnard (born January 3, 1914).
John Adison Huffman, son of J. W. and Kate (Silvertooth) Huffman married Mary Barton. Their three children: James Ellis, Ben William and Efford Franklin.
George Walter Huffman, son of J.W. and Kate (Silvertooth) Huffman married Johnnie Henslee on December 20, 1903. Johnnie was born December 1, 1884 and died May 17. 1977. Their children: John Henslee Huffman (March 21, 1906-December 17, 1971), George Berl Huffman (born August 28, 1907), Mary Kate (Huffman) Pitts (born September 20, 1911), James William Huffman (born January 12, 1914) and Glenn Walter Huffman (born September 14, 1929).
The youngest son of J. W. and Kate (Silvertooth) Huffman, Joseph Johnson Huffman, married Lydia Autry. Lydia died December 24, 1948. Their children: Rosa May (Huffman) Crutcher, Joe Jack Huffman, Paul Huffman and Lela Kate (Huffman) Smith.
James William Huffman, son of John Walker and Jane (Greene) Huffman, married the second time in 1886 to Sallie Artemisha Cribbs (September 27, 1863-March 9, 1927). Sallie, daughter of W. P. and Tracy Cribbs, came to Texas from Tennessee in a caravan of ox wagons, several families were together. The women and babies rode, the men and older children walked. Grandma always said she walked from Tennessee to Texas as the wagon was so heavily loaded. One of her favorite stories was the time when some of the boys and girls sat down to rest and got behind the caravan of ox wagons. There was a Y in the road, and they did not know which way to go. As night drew near, some of the men came back for them.
Three children were born to James W. and his second wife, Sallie. Grover Cleveland Huffman (September 14, 1888-December 4, 1944) married Mary Ruth Brooks on December 8, 1916. Ruth was born January 24 1892. Their children are: George Clarence Huffman (born March 31, 19191) and Nell Jean (Huffman) Hicks (born July 9, 1926).
Maggie Jane Huffman (born July 8, 1895) was the second child born to James W. and Sallie Huffman. Maggie married Roland J. Berry (April 11, 1885-November 9, 1966) on October 31, 1943.
The third child of J. W. and Sallie, Robert Lloyd Huffman, was born August 28, 1904. Lloyd married Sally Ferris who was born October 14, 1904.
James W. and Sallie (Cribbs) Huffman moved to the Crowley Prairie, near Estelle, around 1890. They bought 140 acres from the Baker survey, some 4 ˝ miles from the present business district of Grapevine. J. W. soon built the home where he spent the remainder of his life. On the opposite side of the road was the largest barn on the Grapevine prairie. This estate remained with his descendents until it became a part of DFW. The Huffman property was near what is now the center of the world's largest airport.
By NELL HUFFMAN HICKS
MAGGIE HUFFMAN BERRY
and LLOYD HUFFMAN

From an unidentified book, page 239